Winner of G2 Spring Season Awards
28-Apr-2021
Ease of Use
Quality of Support
Ease of Setup
G2 honored Offer18 with their High Performer and 7 other Awards. G2 is the world's largest tech marketplace where businesses can discover, review, and manage the technology they need to reach their potential. G2 plays a huge role by providing unique, authentic peer advice in real-time. G2 gives buyers better guidance than traditional analyst firms, which can take up to 2 years to update and publish technology research. That timeline can't keep up with the pace of technology.

We are constantly improving our services and using the latest technology which makes us one of the leading tracking service providers. Many organizations keep recognizing the quality of Offer18 services with their Awards. Recently, Offer18 has added lots of new features that help users to improve their performance.
---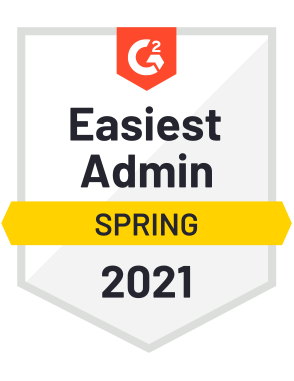 Brand New Concise User-interface - Offer18 has launched a new administration dashboard recently where all functionality is easy to understand without any technical help. The right combination of color and icon makes it more attractive. Everythings is visible in a layered manner to reduce complications. Overall functionality is smooth and interconnected where you can perform all the task steps by steps. All the options are quickly accessible. You don't need to spend much time finding any particular option. Each option is available in front of you and can be accessed in a few clicks.

---

Weight Distribution Sorting option in Smart Offer - Offer18 has introduced New Weight Distribution sorting feature in Smart Offer/Campaign, this will help the users to create intelligent tracking URLs which will distribute the traffic according to the weight value defined for each child offer. You can assign a higher weight to the best performing campaign in your Smart Offer. This option will help you to optimize your traffic and avoid consuming unnecessary traffic by non-performing campaigns. Along with this you can avoid manually working and let the smart algorithm of Offer18 do it automatically. You don't need to check targeting (geo, device, os, etc.) of all the offers. Smart Offer links automatically redirect affiliate traffic to the most relevant Offer. The creation of Smart Offer is really easy and time-saving. You don't need to go in each offer and put them to smart offers individually. Just create a smart offer and choose the sub offers/child offers which will take hardly your few seconds.

---

More key performance metric - And real-time reporting also help you to increase your ROI. Real-time reporting - Optimize your campaign performance with real-time reporting of Offer18. Group view, Drill Down, and Different layers of data granularity that allow you to analyze your report more effectively. Group view reports help you to check your report quickly and save time. With the help of the Drill down report, you can check the report in detail as well. Reports are displayed in a layered manner to reduce complications. A Crystal Clear and systematic visualization further enhance the user experience of the report.

---

Campaign automation - Is specially designed to automate campaign performance and increase the ROI of every campaign under the rule created for automation. Offer automation supports campaign management based on variations in metrics of gross and unique clicks, conversions, CR, CTR, eCPM, and many more. If you are a performance marketer then you must monitor and control some key performance metrics to optimize your campaign performance

---
There are further available many more features e.g. Robust Offer SYNC API, Enhanced Employee Management, Complete White label Solution, and 24/7 dedicated customer support make Offer18 a High performer in the performance industry.
Recent Updates